2020 Fryar Christmas Letter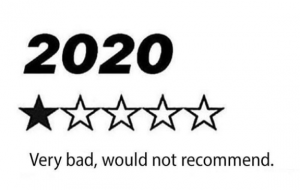 This depicts 2020 well; it sure has been a whirlwind of emotions as we all reacted to changes outside of our control. But our family has come out on the other side with some great memories and thankful moments.
Brandon (18) graduated high school – moving on to upper education at Mankato State. He is in the Aviation program and has his first semester of flying lessons under his belt. We could not be more proud of him!
Aiden (14) moved up to high school level – and has had an unusual start to his next four years; with hybrid and now full distance learning. He has done a great job navigating the new normal, keeping himself connected to his teachers and his friends. He keeps upbeat about the situation.
Danith and I have been fortunate to be able to completely work from home since mid-March. Luckily, the house is arranged to allow for us to work in separate spaces. I have put in over 500 miles of running this year. Danith continues to find creative outlets through quilting and recently joined a book club
Merry Christmas and a happy New Year!