Crack Update
Summer is really chugging along and the days and weeks just fly by. We have been pretty active with the traditional summer sports, family visits and upcoming camping and home improvement projects.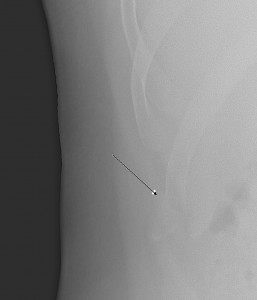 This past 4th the whole family went tubing on a lake behind a speed boat. This was fun, everyone had a blast and everyone got nice and wet. However on one of my tumbles I must have smacked my chest with my arm as I fell. Yesterday I went to the doctor and they confirmed that I fractured my rib. Basically it is fractured right at my side where it curves from my back into my chest. The X-Ray is below for all the budding radiologists out there.
Otherwise there are a few other pictures from the tubing trip below in the gallery.
On a plus side we finally were able to stop for fresh cheese curds in Ellsworth, WI. Definitely worth a repeat stop, they have the best curds I have ever eaten!