2013 recap
Where did 2013 go, one minute we were celebrating the new year and the next it was Christmas again!
Since we did not send a Christmas letter this year I thought I would type up a blog post instead. That way I can include videos if anyone cares to watch them. 🙂
Lets see, in early 2013 I was lucky enough to win a trip to San Francisco to attend a tech conference, Engadget Expand. Danith and I got to see some sights in between the conference, eat some fresh seafood, and enjoy the brisk temperatures while there for about a week. The sight we enjoyed most was Alcatraz.
The boys are growing like weeds, Aiden is 7 and Brandon is 11. Aiden went into second grade while Brandon just started Middle School this year. They both still play piano, you can see a few videos of their concerts below. Brandon has also been playing trumpet for 2 years and gets to play in the pep band this coming January.


They both took skiing lessons last winter, however Brandon has decided that snow boarding is more his thing this year. Here is a quick video of Aiden hitting the slopes.

This summer Brandon went to a scout camp for a week. He learned to skeet shoot, canoe and rock climb. He is proud that he was able to hit 2 out of the 3 skeets on his first try.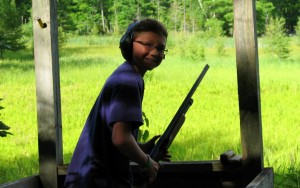 Aiden got to spend one night at camp as well and enjoyed making fire wood.

We also did a tour of the Great Lakes this summer. We drove by each of the Great Lakes and stopped at Sandusky Ohio to play on the roller coasters. We also stopped at Niagara Falls. That was a fun trip with lots to see, however it was a LOT of driving.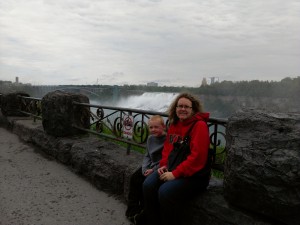 This fall we added onto our deck and purchased a hot tub. The boys have had lots of fun going into the tub, even when it was just above zero. With the temps below zero now I am not too sure I will be joining them.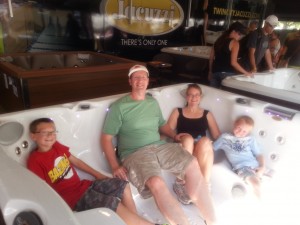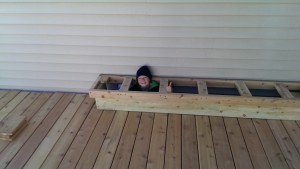 Both boys helped with the deck, but I only got a picture of Brandon helping secure the bench to the deck.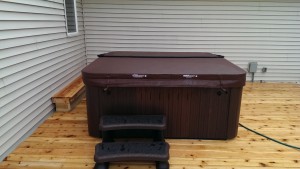 Danith got to visit Canada, and by visit I mean sent to Canada for a "week" and did not come back for three weeks. She got to work with one of the 3M plants that make tape. She gets to return there in early January as well.
I have enjoyed slowly turning our house into a smart house. We can now lock and unlock the doors remotely, monitor several entrances with remote cameras and control the temp all through a customized interface. More work is needed but that will be for next year.
Hopefully everyone enjoys 2014 as I am sure it will be no less busy!
The final video recaps many of the moments throughout the year, enjoy!